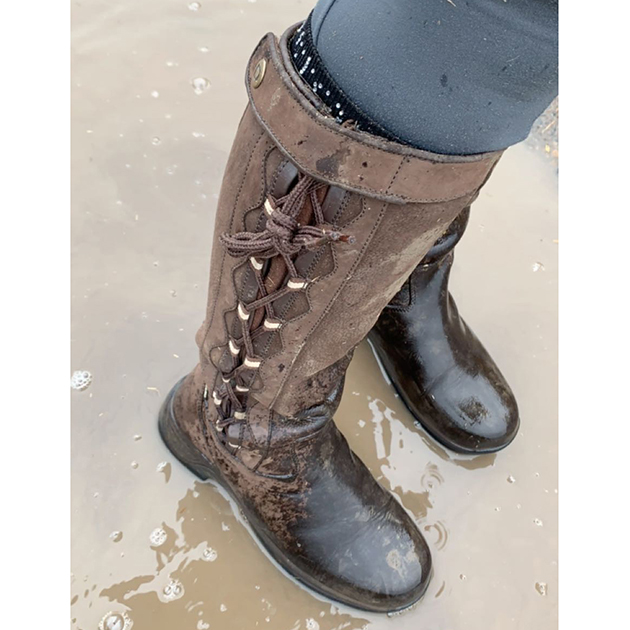 I have worn Dublin boots for years and I absolutely love them! The Pinnacle boots are my favorite and I have recently bought my third pair, they have proven to be very durable as I wear them daily in all weather conditions when at the yard or walking my dog (I have previously ridden in them too). Pinnacle boots have a waterproof and breathable membrane that keeps my feet cool and dry in the warmer weather, however they stay warm in the colder weather which is a bonus as I have previously struggled to find a practical boot that I can wear all year round. The pinnacle boots are lined with a sweat controlling material which is very beneficial in the summer months, keeping my feet cool and decreasing the chances of sweating.
The Dublin Pinnacle boots feature the RCS footbed system that offers cushioning, support and great comfort – all essential when the boots are worn for long periods of time. I find the pinnacle boots the most comfortable country boot on the market at the moment and I really benefit from the heel, arch support and double cushion layer as these features provide me with maximum comfort and stability that I haven't found with other branded boots.
My favourite feature of the Dublin Pinnacle boot is the adjustable lacing at the side, as like a lot of horse riders I have quite wide calf's and sometimes struggle to fit in boots only available in regular widths. The laces are easily adjustable, allowing me to create the perfect fit to my leg without pinching or discomfort and the touch tape closure at the top helps secure the fit.  
I have found that the tough tech rubber sole on the boots is durable and long lasting, I have not yet had a pair of pinnacle boots that have cracked at the sole or become unusable due to wearing away. Before buying my first pair of Dublin boots, I had tried and tested several other country boots by other brands (even the most expensive) and have been unhappy with the quality and lack of durability, I will always stick with Dublin and I am always satisfied with their products!
The Pinnacle boots are available in a variety of shades of brown, providing a colour for everyone and meeting peoples preferences.
Priced at $199.99, I think that the Dublin Pinnacle boots are extremely good value for money compared to other similar brands as they are long lasting, durable, stylish, and practical and I will always recommend these boots to others due to the above reasons.