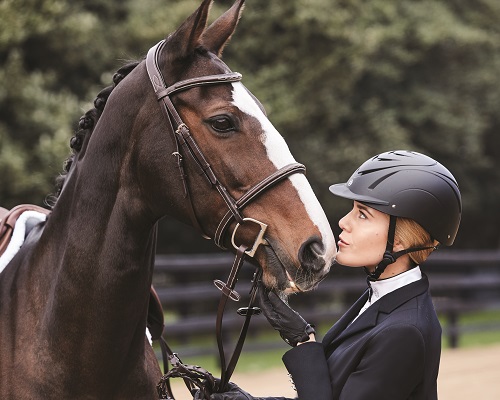 I have an extremely large, extremely hot head. I think this heat is caused by being blessed with a veritable lion's mane of hair, but while this may appear to be a wonderful thing when it's all styled and has been fussed with for an hour, it's an absolute pain when it comes to riding helmets. There are few things less attractive than my head once I remove my riding helmet– normally crimson and slightly damp. Delightful.
Bearing this in mind I set about trying to find a helmet that I could wear at home that would keep my head cool, while still being up to standard safety wise. Imagine my delight when I stumbled across the Dublin Chevron Helmet! These helmets are not only stylish, but they're lightweight, fit beautifully and the price points are fantastic. Being a boring traditional person, I opted for a plain matte black, however, there are plenty of options for the more adventurous rider, including the gorgeous matte purple which looks like it should be perched atop the head of a stylish teenage showjumper.
Oh what cool-headed bliss!!! The stylish vents mean that while I ride there is still air circulating around my head, while the dial fit ensures that the fit is perfect which is particularly useful when you have as much hair as I do. Historically I've had to keep two helmets– one for when I've just had a hair-cut, and one for when my hair has grown back, as the change is significant enough to mean my head changes by about two sizes. The dial fit on the Dublin Chevron Helmet means that I can do away with the spare helmet, and enjoy a well-fitting helmet all year round.
I have searched for a long time to find a helmet that fits well, keeps my head cool, and will protect me in the event of an accident. I've finally found one that ticks all these boxes in the Dublin Chevron, with the added bonus of it being exceptionally well priced too! Thank you Dublin, from both myself and all those whom I ride with, who no longer have to recoil in horror when I remove my riding helmet.